News and Forthcoming Shows
Thanks to everyone who came out to support us at the 100 Club on the 29th December. It was a truly fantastic night and a great time was had by all. A special thanks to the promotor, Paul Sawtell for facilitating such a great night.
The new album will be officially available from 3rd February and to help with the promotion of said album, we will be playing a lot more than usual. The next shows on the board are:
The Pipeline, London E1 7DA - Sweet But Deadly Night - 1st March with the Galileo 7 and Sonic Jewels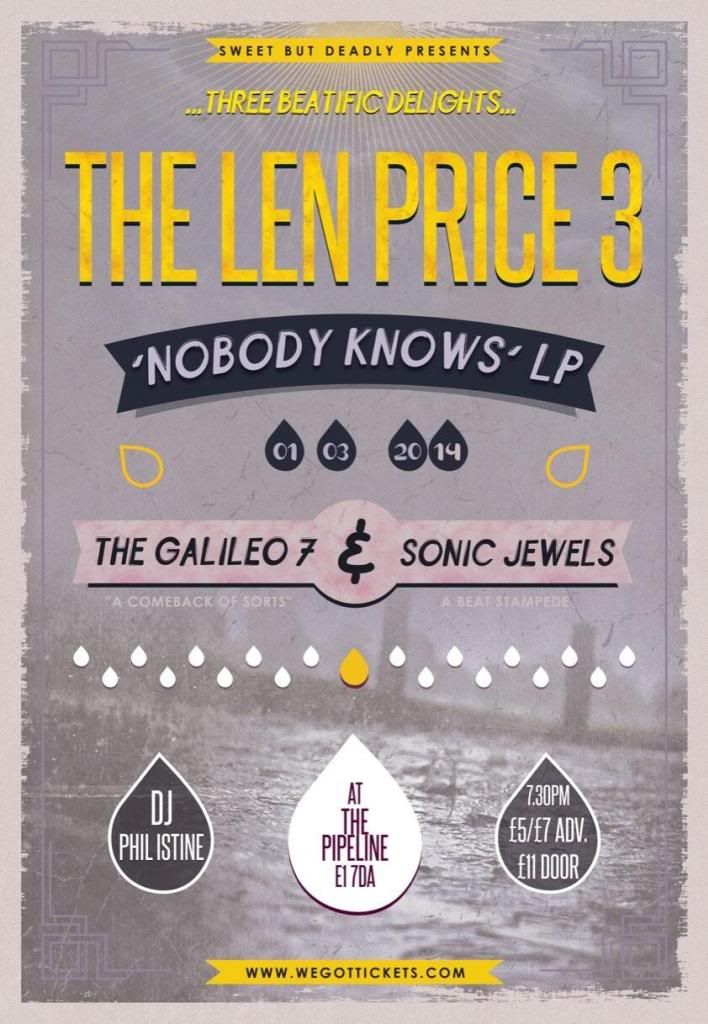 New Untouchables Magazine Launch Night , London - Thursday 13th February - Onstage at 11pm at the Blues Kitchen, Camden
Barrowlands, Glasgow Clutha Benefit Gig. We've had the honour of being asked to play an official benefit gig at Glasgow's premiere venue for the victims of the Clutha helicopter disaster in Glasgow. This is on the 15th February in the evening, and will feature us andr fantastic bands - the full line up is yet to be announced.
Liverpool - International Pop Overthrow Festival, 16 May (more details tba)
London - The Fiddlers 17 May (more details tba)

There are new dates coming in all the time, so keep your eyes on the facebook/twitter to get the latest updates more quickly.
Twitter!
Follow us on Twitter for all the latest - @thelenprice3
About Us
The Len Price 3 are an adrenaline pumped pop band from England, forged in the traditions of their Medway Delta roots. They are a revelation to those who encounter them, encompassing all of what you would want from a band in one invigorating sonic experience. Their dazzling live performances feature a thunderous set of well-honed melodic nuggets played at breakneck speed, complete with shiny pop hooks and chrome glazed harmonies. But dig a bit deeper and you will find a rich lyrical content that is full of acid tongued lyrics and wry social observations. With each album and single release receiving glowing reviews and every live show leaving behind a highly satisfied audience full of enthusiastic devotees, The Len Price 3 are fast becoming a true national treasure…
This is the place where you can check out all the latest news, photos, music and videos.
Be sure to check out the different pages on our site and sign up for the newsletter before you leave. Also, while you're down there you might want to click on a few of the 'LP3 On the Web' links to find out what other people are saying about us. We've got a facebook and a myspace page so go ahead and fill your boots!
While you're on this site, you can listen to a selection of our tunes - there is a music player located at the bottom of the screen - just click on the play button to get it started.
If you want to contact us for bookings/further information please email us using the Contact Us page and we'll get back to you as soon as we can.
Finally, If you want to contact our label you can do that here - Wicked Cool Records
In other news...

The Len Price 3 are now officially dressed by the foremost supplier of high quality lifestyle inspired clothing... we are honoured and privileged indeed! Please visit Phil and the guys at www.adaptorclothing.com to get yourself suitably attired!

Website Header Photo by Paul Slattery.